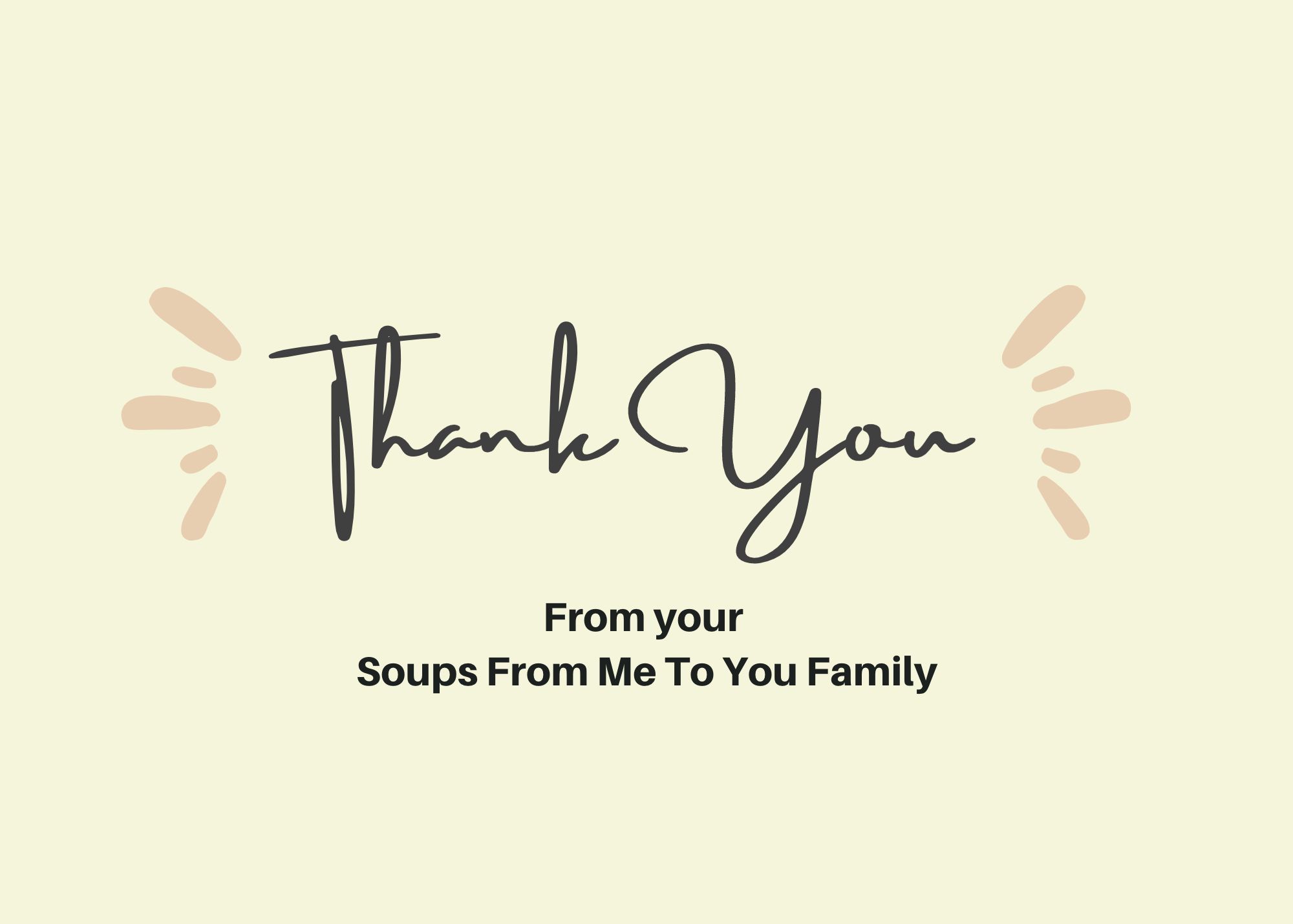 Soups From Me To You Growth and Success in 2022; More to come in 2023!
The Soups From Me To You Family gratefully appreciates all your support in the past few years. With all the choices for Soup, Chillis and Broth out there…. you chose Soups From Me To You! Thank you so much.
2022 was an exciting year for Soups From Me To You (as we like to call it SFMTY) as we added more products, made them more available, added more services, showcased a new look, and the result was receiving many Recognition Awards from our Customers and Business Professionals!
New Products, a New Look and Catering.
Our new product line, "Smoked Foods From MeTo You" features our Smoked Beef Brisket, Smoked Pulled Pork, Smoked Chicken, and Smoked Oyster Mushrooms. Smoked Oyster Mushrooms is a meat alternative that is rich in protein, dietary fiber, minerals, and vitamin‐B and no cholesterol. We've had many delighted customers, who placed large orders for family and friends 'get together', tail-gating and class parties!
If you need help hosting an event, SFMTY offers catering at your home or venue, or we can Host an Event at our location or venue. We're starting off small, but give us call for more information.
SFMTY is returning to our original round recyclable container. We tried a rectangular container, that was part of a recycling program, but customers concerns found the container hard to open, were brittle, and Customers could not reuse them.
This year, we will take the opportunity to redesign some of our labels, to feature diet and content symbols visible on the front of the label.
Where to find Soups From Me To You? Local Stores, Market, Expos and Ontario Wide Delivery Service.
Many of our products are available in stores in Hamilton, Flamborough, Burlington and we have added Ancaster to the list. We are now the soup supplier at Ancaster Cheese & Fine Foods Store, the owners, Milap and Arnie, carry different selections throughout the year.
We'd love to carry SFMTY in more of your local stores; please let us know if you have suggestions of a store. We are planning a 2023 road trip to visit possible and interesting stores.

One of our favorite parts of owning SFMTY, is being able to meet and talk to Customers at Markets and Food Expos. Hearing how we satisfy Soup and Smoked lovers taste buds is so rewarding and inspiring.
It was fun being part of the Ancaster Farmers Market, at Holiday Markets, Mistletoe Market at the Port Nelson United Church and the Connon Makers' Night Market, and the many Gluten Free Expos. We met many new customers and vendors. We'd love to be part of more Markets and Expos, so let us know if you have any recommendations.
Can't get to the Market, Expo or Store that carries SFMTY? We have the perfect solution – SFMTY Ontario Wide Delivery Service. Our Ontario Delivery Service can now ship across Ontario, with delivery in parts of Ontario as early as the next day!
We know you like to hear about all our great products, locations and venues, and we have added Nicole as our Social Media Assistant to help with many media presentations.
From Your Table & Home to Our Kitchen!
Thank you for all the support our Customers have given SFMTY. You have helped us receive many Awards as you, and many Business Professionals Organizations have recognized us!
Winner of Ontario Small Business Award 2022

Flamborough Chamber of Commerce
Hamilton Chamber of Commerce

Flamborough Readers Choice 2022 – In Nine Categories: receiving Diamond, Platinum and Gold Awards.
Winner of City of Hamilton Starter Plus Program!
SFMTY 2023 Goals
We are always thinking of how we can expand SFMTY products, availability and services. We have always been interested in suggestions and comments from all our Customers, Vendors, Farmers and Business Associations, especially for expanding our Business. To recognize and fulfill our Growth Goals, we would like to expand our Company Family. We are interested in hiring a parttime cook. Perhaps you may be interested or know of anyone who loves food and loves to cook! Have them send me an email at info@soupsfrommetoyou.com.
Thank You
We truly appreciate all your support for Soups and Smoked Food From Me To You this past year. There's a lot of choices of soups, bone broth, and smoked foods out there, but you chose us! That means a lot to us. We just want to express how much we appreciate your business.
If you're looking for something truly special, we hope that we'll continue to be the first small business "Soups and Smoked Foods "you'll think of us first.
Chef Liz